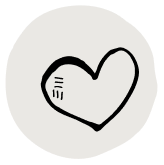 This guide is a labor of love—and a gift from us to you.
We are designers, writers, technology specialists, account managers, and strategists from a range of backgrounds, committed to making more diverse, equitable, and inclusive marketing. It's central to both our company values and the kind of creative work we're proud to stand behind. In 2020, we went looking for ways to up our DE&I game. While we found a ton of information, there was no single, comprehensive resource that we could turn to. So we decided to create one and share it with the world.
We started this guide to help us better serve our client partners with more inclusive marketing. When our research showed us just how far our industry still has to go to become truly inclusive, the project grew in both scope and ambition. Somewhere along the way, it became a true labor of love. It's our hope that this guide not only changes the way we treat creative, but also how we treat each other. We hope you'll enjoy it, share it, and put it to good use.
Our industry has a huge influence on the way we see ourselves and others. It's time we all started using that power for good.

---
Adam King
As a designer and marketer, I feel like it's my responsibility to not only make the work I do accessible and usable by as many people as possible, but also to elevate the stories and voices of people that have been marginalized or underrepresented, and hopefully even influence positive social change.

---
Anita Patwardhan
I believe marketers have a responsibility to thoughtfully represent diversity, and I want to help them feel empowered to do so.

---
Ben Henry
It's refreshing to work with others who understand that equity and inclusivity are not fads—nor diversity a meme that might be swept away, ignored, or pandered to just to capitalize on a moment. Who see DE&I for what it is and all that it can be: the basis of authentic connection.

---
Carlton Curl
As the digital landscape becomes wider and more ingrained in our everyday lives, it's important for us as marketers to provide authentic representation and expanded access to those who may not have had it in the past. I'm thrilled to have been a part of such a worthwhile endeavor.

---
Cat Kidd
The words we use and the images we show have the power to invite people in or cast them out. I participated in this project to help amplify the voices and visibility of those often overlooked in marketing by ensuring our language is inclusive and empowering.

---
Chibuzo Okoro
In contributing to this project, it is my solitary hope that the prescriptions and resources found in this guide serve as a call to massive action so that we, as marketing practitioners and human beings, are not only encouraged to complicate our palatable understandings of DE&I and its impacts but also give in to a spirit of inclusivity in all that we do.

---
Christianne Michel
DE&I is essential to any team—it provides new ideas, new approaches, and always new learnings. On a personal level, I'm constantly trying to learn more about what I can do to make the world a little better in this regard. I joined this project to help others who want to do that, too.

---
Christine Kottis
I believe that creating diverse, equitable, and inclusive work is a powerful way to speak to a broader audience. As marketing professionals, we have a responsibility to incorporate DE&I into everything we do. Together, we can create work that makes people feel seen, heard, accepted, and understood.

---
Christina Pedroza
I believe it's important to put things out in the world that truly reflect the diversity of our culture. It's been an honor to contribute to this guide, and I hope it's a helpful resource in producing work that's not only creative, but also respectful and thoughtful.

---
Curt Pope
I've been working in hybrid roles in UX and engineering for the past 20 years, and I love building great things and launching them into the world. DE&I is a concept near and dear to me. My hope is that we can influence the marketing and technology world with what we have created here.

---
David Zeitman
Thoughtful diversity and inclusion practices have become a critical differentiator in the business world. That's what got me excited about contributing to this project, and why I'm so proud of the final result.

---
Holden Hume
Increasingly in recent years, it's business that drives positive social change as much or more than any other parts of society. It's great to be part of an agency that prioritizes progress that will ultimately make the world a better and fundamentally more fair and inclusive place for everyone.

---
Huy Bui
Diversity and inclusion are both very important to me. Contributing to this guide has been immensely rewarding and I hope it helps all marketers navigate through this digital world with DE&I in mind.

---
Japega Pérez
As a developer is always a challenge to achieve all the things to achieve diversity and inclusivity in all ways for web pages and others developments. I love to work in this field. As part of a Latin community, I'm proud of being part of this kind of project and add a little grain of sand. I hope diversity and inclusivity were something natural for all humankind in the future.

---
Jaro Dockalova
There is a lot of talk about DE&I these days, and you often hear people ask, "what should we do differently". Inclusive marketing is about eliminating exclusion and building an understanding with customers. I hope this guide will provide all of us with practical guidance on how to ensure that marketing and tech embrace diversity, giving fitting representation for all people.

---
Jessica Raya
I've been in this industry for 20 years, and I spent many of them creating work that leaves too many people out. We can all do better, and projects like this are a good place to start.

---
Jessica Shindo
It has been a privilege to contribute to this important guide. Race and ethnicity are topics of constant dialogue in my life, and I was excited to bring this conversation to a larger audience. Dismantling stereotypes and unconscious biases takes work. Inclusivity is a journey, not a destination.

---
Jessica Tanus
I wanted to be part of the DE&I style guide to be able to work with people from different teams, backgrounds, and cultures while learning something new in the process.

---
Judah Nagler
At the risk of stating the obvious, the landscape of marketing and technology does not have a great track record when it comes to DE&I. If this site does anything to help tip the scales, we can rest assured that we still have much more work to do.

---
Julio Arredondo Villafranca
As a QA Analyst, I believe that information should reach everyone, that's why I'm proud to participate in this project, mainly helping to make the page accessible.

---
Kara Shell
I'm continually inspired by my colleagues and their passion and dedication to making our work more equitable, more inclusive, and just downright better because of the representation. I'm honored to play a very small part in helping push this incredibly important initiative forward. 

---
Kelton Zenishek
Everyone needs perspective. Listen to other people's stories and study their histories, especially those different from your own. That's how we grow.

---
Lauren Turetsky
For me, this was a passion project that shed light on both the complexities and importance of DE&I. I'm thrilled to see so many companies holding themselves to a higher standard and investing in values that reflect their core beliefs.

---
Lisa Gantman
Diversity is very close to my heart, so I was delighted to dive into this effort  and have the opportunity to explore how we can do better and be even more inclusive.

---
Luis Mosqueira
As advertisers it is our responsibility to make conscious decisions on what our messages tell to people and society. Working in this project gave me the chance to contribute to change, to strive for acknowledgement and representation. Hope this can help others do the same.

---
Marcel Sibitz
An inclusive world is a better world. We should all make more of an effort to empower everybody to have a voice.

---
Mathilde Yvert Rankin
Consulting on this initiative has been a small contribution, but an inspiring one, to changing the way we look and approach marketing, and hopefully making it more and more diverse. It starts with a mindset shift and asking the right questions. I hope it will inspire other similar initiatives to spread diversity in the marketing industry.

---
Matty Klemanski
"Build for everyone." It's a fundamental philosophy that should be rooted in our daily lives, not just marketing. Working on this guide has opened my eyes and changed the way I think about how our work impacts everyone. I am proud and grateful to have been a part of such an awesome team and initiative.

---
Naomi Heckroth
Brands can be incredible vessels for cultural change—the good, the bad, and the ugly. I believe, and strive every day to ensure, brands reflect the change we wish to see in the world. A commitment to DE&I is a part of that effort.
---
Sam Haskin
For too long, the message from the media has been that "the ideal is something that doesn't look like you, no matter who you are." That has had a horrific impact on the way people see themselves and each other, and it is something we have to correct as quickly as we can.

---
Sandee McCready
As my daughter was growing up, it crushed me to see her bombarded by the media with whatever the ideal [fill-in-the-blank] was that she was supposed to be aspiring to. This project's been a labor of love for me. I'm grateful to and inspired by everyone on the team who worked to make it happen.
---
Shaun Kiggens
In this digital age we find ourselves, we all have a rare opportunity to improve the shared experience everyone engages with. Getting a chance to help on a project that strives to help create these experiences catered equally to all rather than specific groups has been a pleasure. Getting to help with accessibility in particular, which is a passion area of mine within QA, has been immensely rewarding.
---
Stephanie Reyes
As a person of color, a mother, a female, a marketer, a human … this is a very personal endeavor for me. It's not only a necessity, but vital to acknowledge and respectfully represent the different facets of humanity.

---
Susan Parker
Creating this guide has been the perfect intersection of things I care about in my personal life and things I can impact through my day-to-day work. It's been a labor of love, with a lot of learning mixed in.

---
Sydney Nguyen
As a community, we must acknowledge our privileges and confront the social complacencies that aren't often addressed in mainstream media. This is an opportunity to challenge ourselves to listen, learn, advocate, and take action to build a more equitable world based on love.

---
Trevor Robertson
It's vital that all forms of media—including advertising—reflect the lived experiences of the many, not just the few.

---
Vanessa Zucker
As marketers, we have the ability to influence the world, through the media we create, to be more diverse, equitable, and inclusive. And with training, empathy, and critical thinking, we can achieve it.